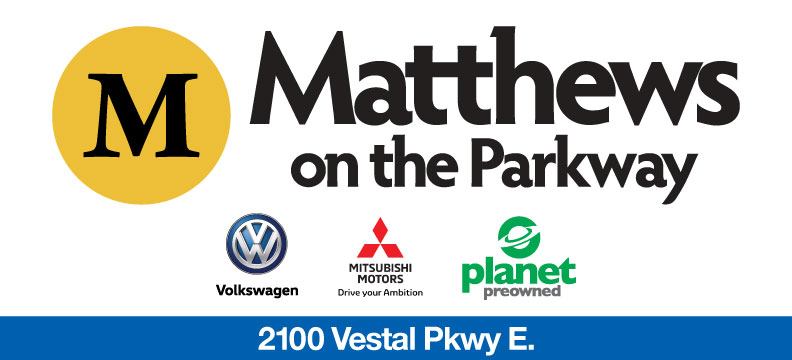 Experience a World of Tire and Service Savings
Our Factory Trained Technicians Service ALL Makes and Models at Matthews on the Parkway
In a hurry? Go through the Fastlane

or Call 607-584-5870
Regardless of what you drive the quality of your tires affect the performance and safety of your vehicle everyday. 

Tires play a major role in performing six functions:
Steering
Braking
Acceleration
Handling
Road Shock Absorption
Load
If even one of these functions is not properly addressed, you are NOT getting the full value out of your tires!  
Matthews on the Parkway is one of the few dealers in the Southern Tier who are experts in Tire Fitment. That means we can advise on the best tires for your particular make and model, and help educate you about tire wear and maintenance.
PLUS we can save you money on Tires.  
A lot of money

.
Matthews on the Parkway Service Links
Matthews on the Parkway Service Hours
Monday

7:30AM - 5:00PM

Tuesday

7:30AM - 5:00PM

Wednesday

7:30AM - 5:00PM

Thursday

7:30AM - 5:00PM

Friday

7:30AM - 5:00PM

Saturday

7:30AM - 1:00PM
See All Department Hours
Dealership Hours
Monday

9:00AM – 6:00PM

Tuesday

9:00AM – 6:00PM

Wednesday

9:00AM – 6:00PM

Thursday

9:00AM – 6:00PM

Friday

9:00AM – 6:00PM

Saturday

9:00AM – 4:00PM
Parts Dept. Hours
Monday

7:30AM - 5:00PM

Tuesday

7:30AM - 5:00PM

Wednesday

7:30AM - 5:00PM

Thursday

7:30AM - 5:00PM

Friday

7:30AM - 5:00PM

Saturday

7:30AM - 1:00PM
Service Dept. Hours
Monday

7:30AM - 5:00PM

Tuesday

7:30AM - 5:00PM

Wednesday

7:30AM - 5:00PM

Thursday

7:30AM - 5:00PM

Friday

7:30AM - 5:00PM

Saturday

7:30AM - 1:00PM